EQUITY PRICING AVAILABLE

USE DISCOUNT CODE

EQUITY25
AT CHECKOUT FOR $25 OFF

(25 EQUITY SEATS AVAILABLE)
LIVE ONLINE EVENT

A Self-Reg Approach to Pressure Cooker Classrooms
ONLINE | ON NOW | 5x 1.5HR WORKSHOPS
Schools on a Self-Reg journey concern themselves with many of the same priorities as you probably do – resilience, mental health, safe schools, character education, student success, attendance, equity and inclusion, parent and community engagement, well-being of staff. Yet, there are differences in the approach to each of these areas.
Do you find yourselves dealing with the same behaviours and the same challenging students over and over again?
Have you tried all the classroom management techniques and find that they work great for some of the students but not the most challenging ones?
Do you feel like so much of your day goes to managing behaviour?
Do you feel disrespected by your students and frustrated that they aren't making better choices, no matter how many times you explain the options to them?
Are you struggling to get parents and caregivers support?
Are you totally exhausted by the end of the day and the end of the week?


This multiday online event with The MEHRIT Centre's Dr. Susan Hopkins seeks to find answers through Shanker Self-Reg® to some of the barriers we face as educators, staff and as school leaders in 5x 1.5hr online workshops.
Learn more below.
Why? Why Now?
A Self-Reg approach is a game changer as you learn to reframe behaviour, recognize stressors across 5 domains, reduce the stressload on students and yourself, develop stress state awareness and learn to harness that learning state of calm energy, and find a path to genuine restoration– the missing piece in the 2022 lives of many children, teens, and adults too. Some deep breathing or a short brain break are strategies to dial down the stress and help focus but they are NOT the same as brain-body restorative states that we all need for learning, connecting with others, being our best selves, and contributing to our school communities in healthy ways.
What Underpins a
Self-Reg Approach?
Understanding the brain-body science of stress – the good and the 'too much'--to see beyond the behaviour and focus on the roots: Why? Why now? Self-Reg is not a program, it is a framework with tools, strategies, and science-aligned practices that support educators in the classroom with all their students so that they can get back to curriculum and teaching.


The science has evolved and moved beyond skimming the surface of behaviour. Those who delve into Self-Reg learning – the science and applying the framework in their work and lives – often exclaim that once you see the Self-Reg in the scenario, you can't unsee it.
What to Expect
5x After-School Workshops (1.5hrs each)

Scenarios to Deconstruct with a Self-Reg Lens

Breakout Group Discussions with Peers

Q&As with Susan

Catch Up with recorded content until Dec 31, 2022

Certificate of Participation
These sessions provide opportunities to learn about the four Self-Reg journeys – SEEDS, SUNRISE, QUILT, HAVEN – and to plan a path forward with the resources, tools, and strategies that are the 'just right' fit for you, your classroom, or your school. Each session will include some:
Head Knowledge – a bit of the science and applied Self-Reg examples with Susan Hopkins
Heart Knowledge – an opportunity to reflect on your whys and where you are in your understandings and priorities
Hands Knowledge – identifying the practical next step hows of bringing the Self-Reg framework into your classroom
WORKSHOP SCHEDULE
Nov 28 - Welcome & Exploring Pressure Cooker Classrooms
Nov 29 - Seeds Journey
Nov 30 - Sunrise Journey
Dec 5 - Quilt Journey
Dec 6 - Haven Journey
WORKSHOP FORMAT
3:30 - 5:00 PM EST
3:30-4:00: Talk by Susan Hopkins
4:00-4:30: Reflective Group Time
4:30-5:00: Q&A with Susan Hopkins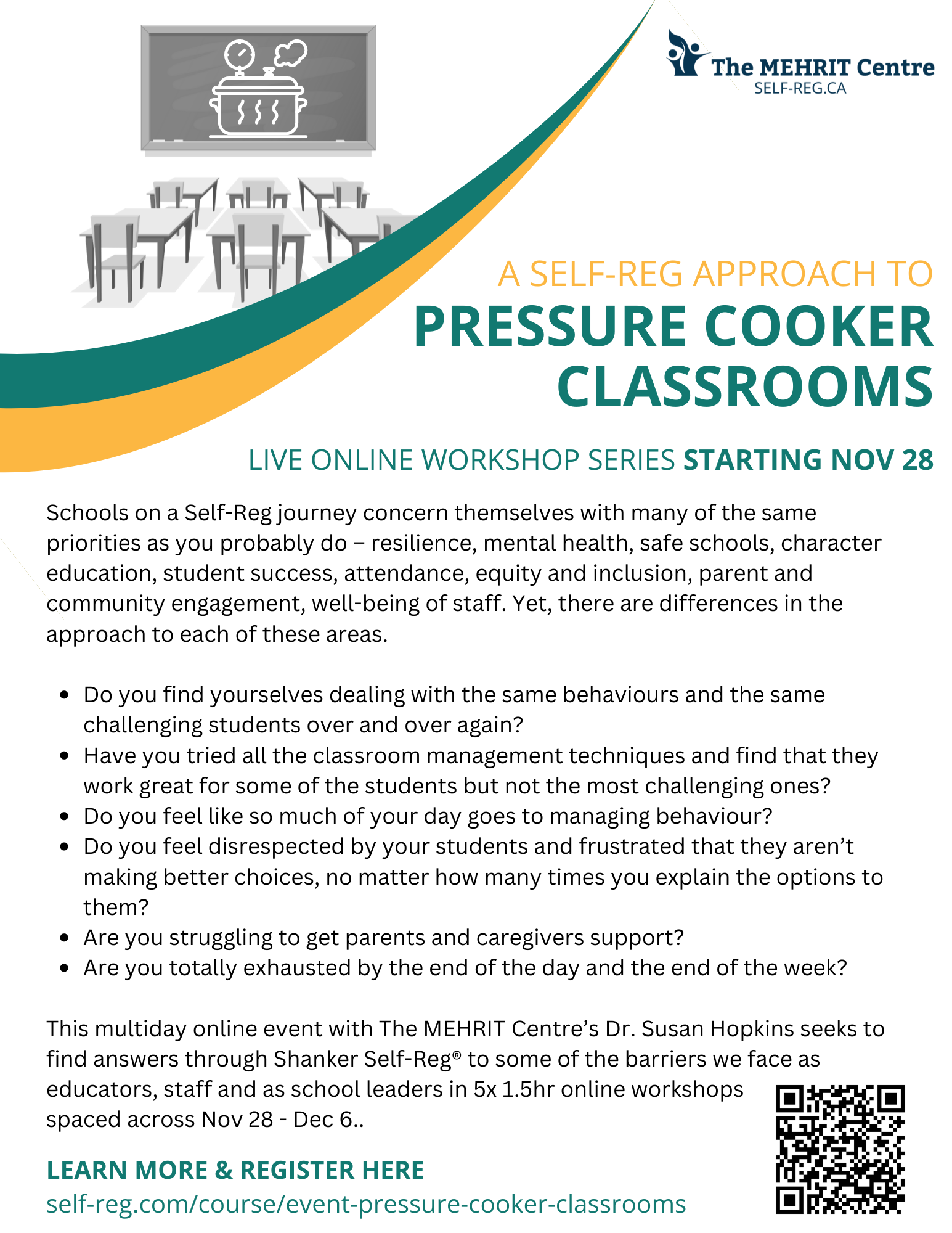 Pressure Cooker Event Flyer
Feel free to download, print and share this flyer for the event!
We welcome large groups to attend together and share on the Self-Reg learning journey. Feel free to reach out to
[email protected]
if you have any questions.
Meet the Presenter
Susan Hopkins
Executive Director, The MEHRIT Centre
In the past two-plus decades, Susan has worked in numerous educational contexts and roles: early years, K-12 and post-secondary, teacher, vice-principal, curriculum developer, and inclusion coordinator.
As an organization dedicated to bring Self-Reg to as many people around the world as possible we offer two prices for our events.
Our equity pricing is designed those that are paying for this event personally and need a discounted rate to attend. We do ask that if you are a funded organization or if you are receiving funding to cover the cost of your ticket, that you leave the lower priced tickets for those that do not have funding.