FULL SRSS ACCESS AVAILABLE HERE $595
THE MEHRIT CENTRE'S 8th ANNUAL
SELF-REG SUMMER SYMPOSIUM
LUMINARY ONLY ACCESS
Join Stuart Shanker, Susan Hopkins and Self-Reggers from around the world online to explore Self-Reg Havens in our third virtual symposium. A Haven is not only a place. Havens are nurtured through our actions, through people, our relationships and the spaces held between. In a Haven, everyone feels safe in every way: physically, neuroceptively, emotionally, socially and culturally. In a Haven, Self-Reg frames all and where values come before action plans. Havens are not about perfection, but a social ecology of people – children, educators, staff, families – contributing their strengths and skills in healthy and interdependence-promoting ways. The safety and relationships found in a Haven unlock the child's potential and learning can occur.

Join us at SRSS to learn how you can create a Self-Reg Haven in your school, early years center, home, organization or community!
Tell Me More About SRSS...
14 Live Luminary Talks

Access to Recorded Luminaries until Aug 31

Certificate
Join Us Live or Catch Up Later
Our online symposium format is completely flexible! No need to travel or to be somewhere at a specific time, simply log in and grab the zoom link to join live or catch up with all the recorded Luminaries until Aug 31, 2022.
Luminary Schedule:
WEEK 1
July 4 - 11:00 AM EDT · The Pathway to a Safe and Secure Childhood with Stuart Shanker
July 4 - 1:00 PM EDT · Mino Bimaadiziwin: Ni jichaag (Which is the Good Life: My Spirit (or the Spirit Within)) with Susy Komishin
July 5 - 11:00 AM EDT · Bowls & Baskets: What Are Our Hopes, Hurdles & How Tos When Filling Them? (Part 1) with Lynnita-Jo Guillet & Taunya Paquette
July 5 - 1:00 PM EDT · A Call to "Arms": Are We Listening to the Children? Do They Feel Heard? with Gerard Costa
July 5 - 7:00 PM EDT · FREE PARENT NIGHT · An Introduction to Self-Reg for Parents with Susan Hopkins
July 6 - 11:00 AM EDT · Teams on the Brink of Burnout: Can Self-Reg Help? with Susan Hopkins
July 6 - 1:00 PM EDT · What Can Parents Do in Such Stressful Times? with Stuart Shanker
July 7 - 11:00 AM EDT · How to Repossess Your Identity After Leaving the Child Welfare System with Chanice McAnuff
July 7 - 1:00 PM EDT · Reducing and Eliminating Restraint, Seclusion, and Punitive Discipline and How Self-Reg Can Help with Guy Stephens
July 8 - 11:00 AM EDT · What Do Children Need For Healthy Development? with Jean Clinton


WEEK 2
July 11 - 11:00 AM EDT · How to Nurture a Self-Reg Haven, For Real with Susan Hopkins
July 11 - 1:00 PM EDT · The Science of Compassion and Self-Reg with Paula Jurczak
July 12 - 11:00 AM EDT · FAQ · Votre enfant, Self-Reg et vous avec Stuart Shanker
July 13 - 11:00 AM EDT · Is an Emotionally Safe School More Than Just a Dream? with Stuart Shanker
July 14 - 11:00 AM EDT · 11:00 AM EDT · Luminary · Bowls & Baskets (Part 2) with Lynnita-Jo Guillet & Taunya Paquette
July 15 - 11:00 AM EDT · Now What? A Dialogue with Susan Hopkins & Stuart Shanker
PROGRAM
No two Havens are the same, they reflect those who reside within them, including you. Come learn how with daily luminary talks by Stuart Shanker, Susan Hopkins, Taunya Paquette, Lynnita-Jo Guillet, Gerard Costa, Susy Komishin, Chanice McAnuff, Guy Stephens, Paula Jurczak & Jean Clinton. Also join us for some Self-Reg 101 basics, Self-Reg breakouts, facilitated action planning, guided dialogues, Self-Reg TED-style talks, Self-Reg activities and more!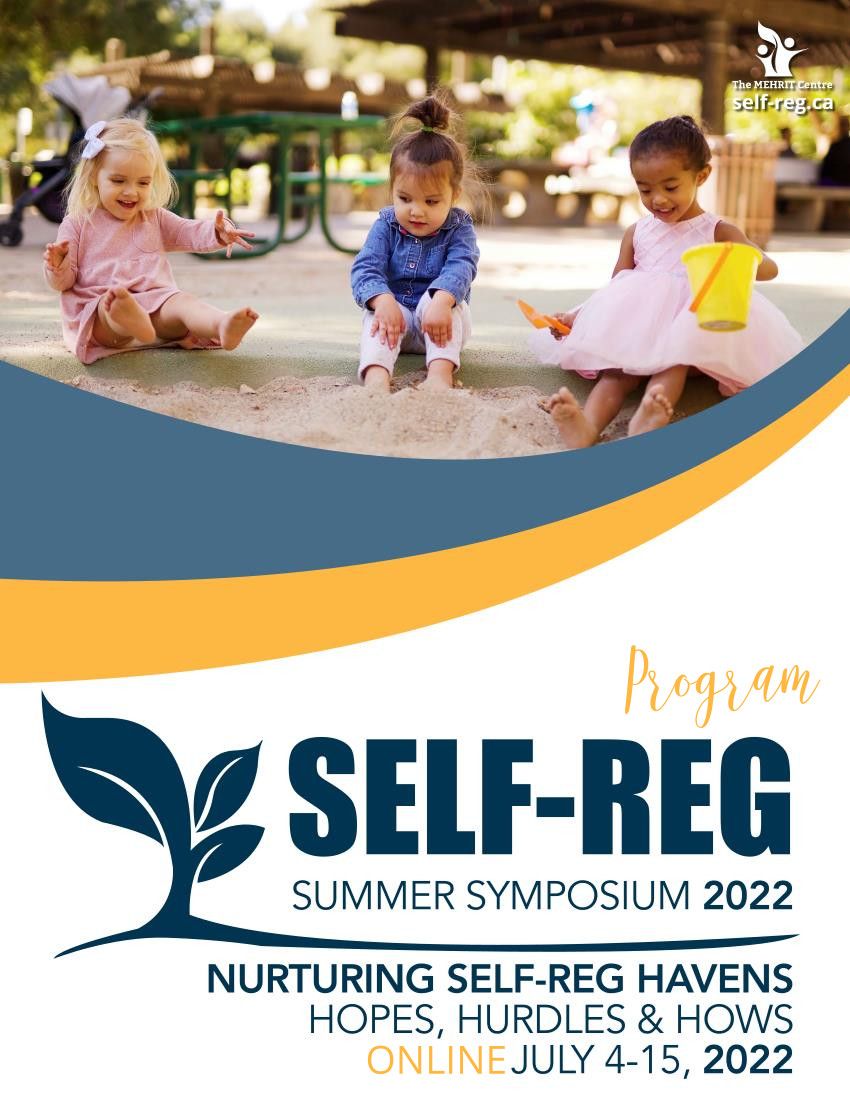 As an organization dedicated to bring Self-Reg to as many people around the world as possible we offer two prices for our events.
Our equity pricing is designed those that are paying for this event personally and need a discounted rate to attend. We do ask that if you are a funded organization or if you are receiving funding to cover the cost of your ticket, that you leave the lower priced tickets for those that do not have funding.